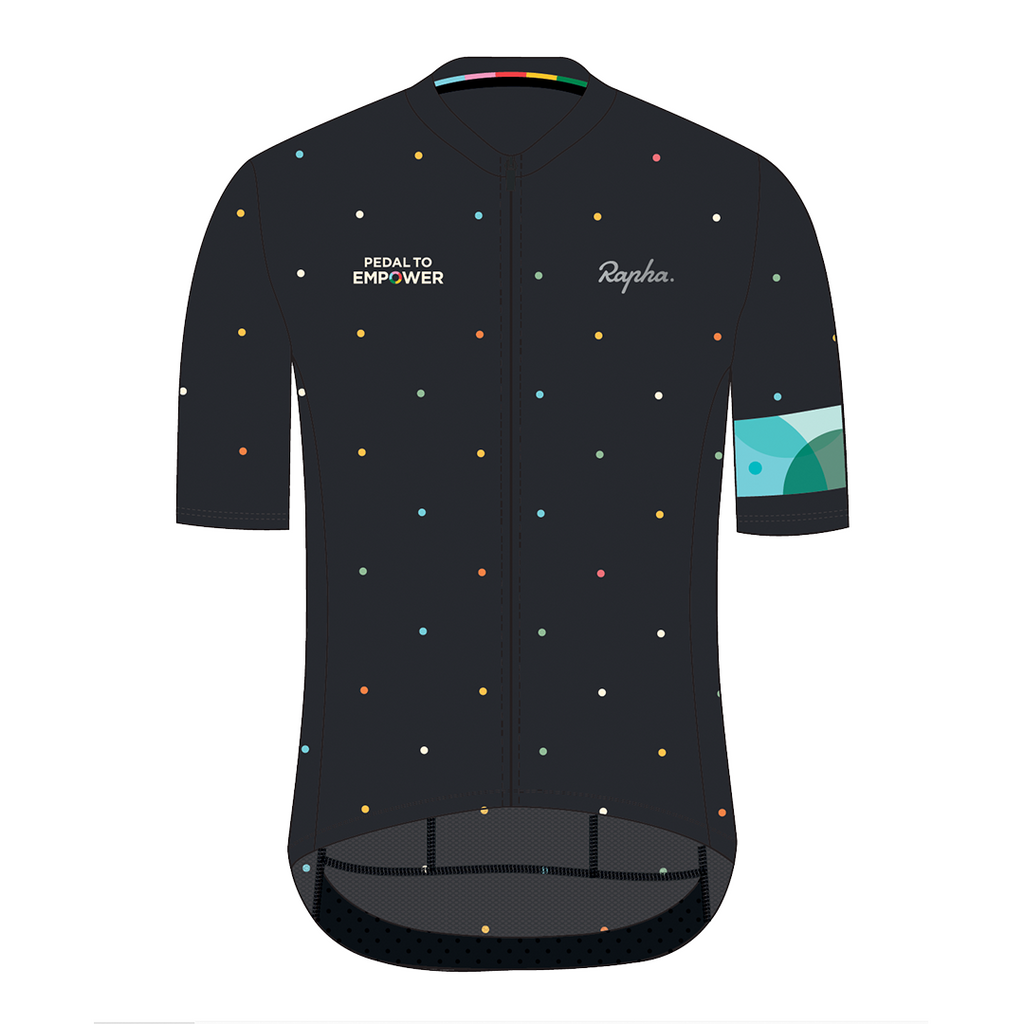 World Bicycle Relief has again partnered with Rapha to produce a limited edition, pro team jersey to celebrate World Bicycle Day and Pedal to Empower.
The Collection

The Pedal to Empower X Rapha collection is made of bespoke products created specifically for this event, so production and delivery times are longer than normal. *All orders will ship shortly before Pedal to Empower (June 3-5, 2022). New orders for this Pedal to Empower X Rapha jersey will close at 11:59 PM EST on June 25th, after which these items will be available while supplies last.  
Features 
The Pro Team Jersey provides reliable performance on race days and training rides during the warmer months and was designed with input from professional riders at Team Canyon//SRAM. Tried and tested on grueling Grand Tours and ultra-endurance races, the Pro Team Flyweight Jersey is made for training and racing in hot and humid conditions. Super lightweight and exceptionally breathable, it features a dual fabric design that will keep you cool and protected against the sun when conditions heat up. On the front and sleeves, an open knit fabric with a grid texture ensures excellent airflow and efficient temperature regulation while the full-length, easy-glide zip can be opened up for extra ventilation. The fabric wicks sweat away from the skin rapidly and dries quickly to keep your body temperature in check. On the back, there's an alternate fabric that offers UPF40 sun protection without compromising performance. Bonded seams on the shoulders keep weight to a minimum while the sleeves extend to just above the elbow for a contemporary race fit. A low-profile collar and mesh essentials pocket continue the barely-there comfort of this jersey, letting you focus on the ride without distraction. 
Sizing 
Rapha's Pro Team range has a closer fit. If you're unsure which size will offer you the most comfort, Rapha's updated size guides can help you find the perfect size. PLEASE size up if you want a less compressive fitting jersey. 
Non-Refundable 
The price of this jersey reflects a discount provided by Rapha. Due to the charitable nature of this product, it is non-refundable. Thank you for understanding.